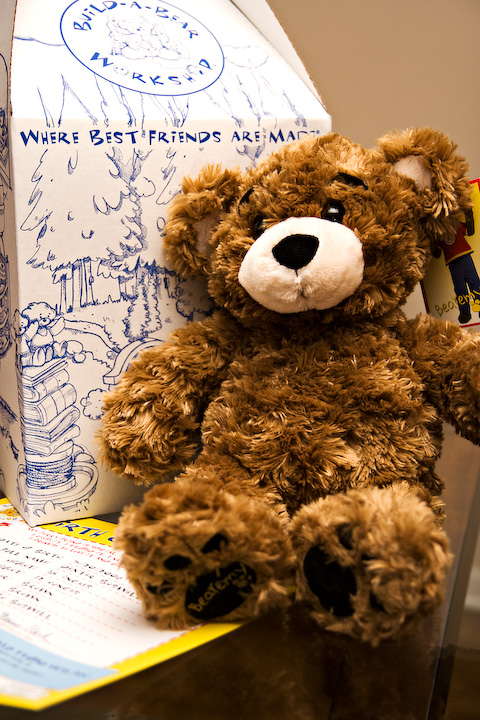 After reading Sunday's post, Aaron promptly called me and said, "What? You've never heard of Build-a-Bear?!" I had indeed heard of it, it just hadn't occurred to me that we could go build a bear for our pre-born child.
Tonight, we went to eat in Brentwood and then headed to the mall to build…what else? A bear!
The whole process was a little cheesy, to be honest. I know the store is for kids, but the lady that was helping us to build our bear treated us like we were the kids. We had to pick out a little toy heart to put inside the bear before he was sewn up and she made us each kiss the heart before putting it in.
Honestly, if she had been a dude, I would've hit her/him. I'm a grown man, I don't need to kiss a toy heart before I put it inside a bear that I'm building.
I got over that pretty quickly, though, because after the bear was stitched up we got to go give it a fake bath and then print up a birth certificate for it.
I like the bear we ended up with, but I'm not certain that it was worth the embarrassment and humiliation I was put through. Fortunately, I was the only male over 6 in the store at the time.
Honestly, I wouldn't define this bear as the "perfect" bear because I've felt softer bears and he had "Bearemy" embroidered on his foot, but I had a part to play in making it, so I guess that will do.