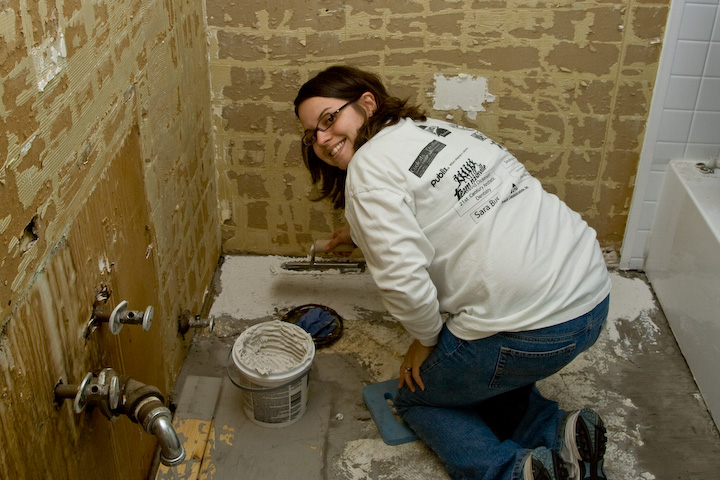 Today was devoted to getting the tile installed in our bathroom. We woke up and cleaned up some leftover bits from last night and then laid out most of the tile to get the measurements and find out what pieces needed to be cut.
In this shot you can see our starting point for the day. The tile expert at Lowe's (Veronica) suggested some leveling compound to make sure the floor was flat before placing the tile. So, we used the leveler to fill in some random gaps and level out some uneven places, then went to work on the actual tile.
I mentioned Veronica above because Traci and I dealt with her several times this weekend. During the course of this install, we've dealt with 4 different Lowe's employees; 3 dudes and 1 girl. Thus far, the girl has been the most helpful and informative. I thought that was an interesting fact worth mentioning.
After Traci's reaction to the asbestos scare, it kinda surprised me that she took on the task of setting the tile with the mortar. She stuck to it and completed the job in just over an hour. There were still a few tiles that needed to be cut, so we had to save those for the next day. But, overall, I thought Traci did a great job.