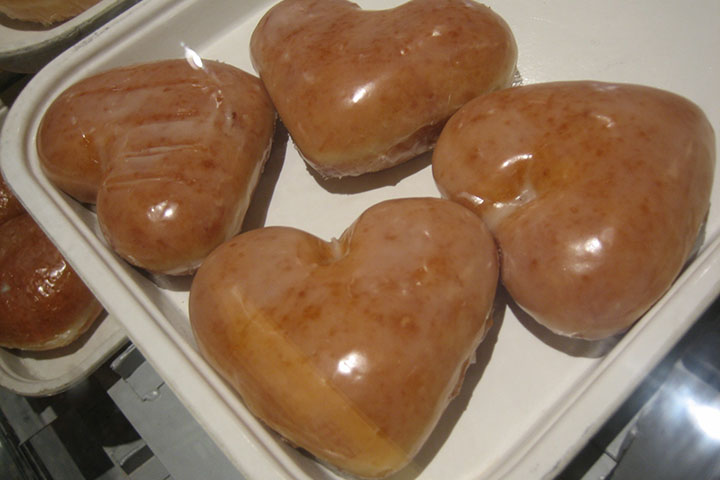 That's right, it's revenge of the heart-shaped pastries again.
We approached this Valentine's Day as a "let's not do anything big" event. But, you know, you always want to do a little something for your s.o.; because I have been sick all week, I haven't felt much like getting out and doing V-day shopping. So, I went to Target last night to pick up some candy only to find that their V-day selection had been ravaged already.
I skipped the V-day card as well because I already had that taken care of. A few weeks ago, I ordered Traci some flowers and had attached a sweet, heartfelt letter to them. I saved a chunk of change by telling ProFlowers that the delivery date was flexible. However, it had slipped my mind that Traci doesn't work on Wednesdays, and that was the target flex date.
I emailed Traci's good friend Whitney on Wednesday because I knew she was going to be at Traci's office. Whit gracefully agreed to arrange the flowers on Traci's desk for her. Unfortunately, I don't think Whitney has ever seen ProFlowers setup before, so she inadvertently threw away the sweet card I had penned for my young bride. So, here I was. No candy and no card.
Hold on, it gets better.
So, at least Traci and I would have a nice meal at Chang's that night, right? I called at 11am and the only reservations were available for 9:30pm. So, scratch Chang's. We just decided to go to Jasmine (Franklin-based Thai restaurant which has proved to be a worthy alternative to Changs on many occasions). We knew Jasmine didn't take reservations, so we didn't even bother calling. It wasn't until we showed up that evening did we realize that this is apparently the only day of the year they accept nothing but reservations. So, they turned us away.
So we just said "Fuck it" and ate at McDonalds. I haven't eaten there in awhile and I must admit, that night it was dang good.
After our hearty meal, I knew I could at least treat Traci to the movie she had wanted to see (Definitely, Maybe), and since we were done eating so quickly I knew we could make it to the showing just in time. We got to the theater just in time to realize that I had misread the movie times and we were 30 minutes late for the movie.
We saw Juno instead, which was a good substitute. The one thing that worked out right was the donuts, which were practically an afterthought.
At the end of the day, I had a great day, even with all the snags.
In other news, this was Mark's last day at work before his trip to the Dominican Republic to swim with the whales. He ordered a waterproof camera, so we decided to give it a test run before he left. Below are some pictures from the event:




When Mark dunked his camera, he was recording in video mode. Here's the vid: