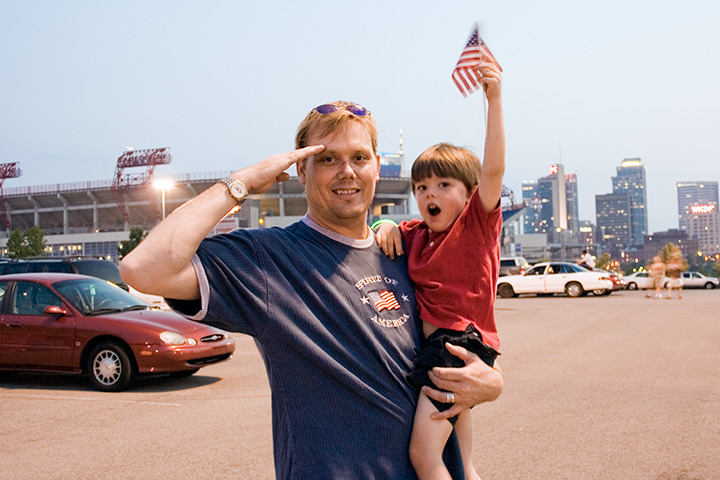 This year we tried to do the same thing we did last year, which was to eat at the Gerst Haus and then sit in their parking lot and watch the fireworks.
We had such a good time last year, and we built it up so much, that Mark and his family decided to go with us. This time we decided to park in the stadium parking lot instead of Gerst Haus's. Parking was also $10 this year, and I think it was only $5 last year.
The food at the Gerst Haus was okay, but our server was really slow. We finally got out to the parking lot and had to wait an hour and a half for the fireworks to actually start. Apparently Nashville decided to inject a lot of country music acts into their fireworks extravaganza. This wasn't a welcome change; I was there to see fireworks, not to hear country bands.
After the fireworks show was over, I realized that my truck battery had run down due to the fact that we were listening to an hour and a half of the cheesy live country music show. So, by the time the Weiss's jumped us off, the traffic was backed up. It took us around 40 minutes to get out of the parking lot.
It was a fun night, but I think I'll avoid Nashville next year. The fireworks are always great, but now there's too much fluff around them. Overall, it's not worth the hassle for me.
Below is a picture of the whole group. I decided to put Mark as the main pic of the day since he's been trying so hard to get on the Piccal.