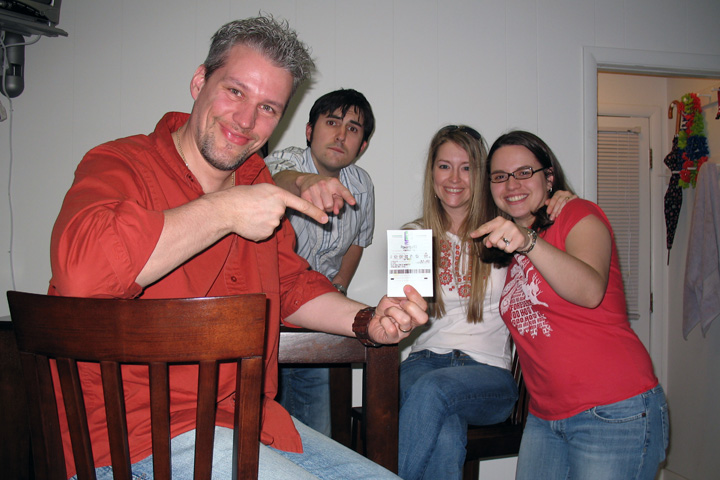 Tonight, Traci and I had dinner at PF Chang's with Chad and Jen. During dinner, the discussion of starting a restaurant/bar came up and we found that both parties were very interested in the idea. The majority of discussion revolved around our future business, and eventually led to the mention of the building across the street from where Chad and I work. This building recently went up for sale, so we all fantasized about setting up shop on Music Row and feeding the hungry music production/business types.
As our fortunes arrived, we turned our attention toward the "lucky numbers" on the back. We went around the table and read our numbers out loud, taking note if someone else had the same number on their fortune. We ended up with 5 numbers, but we needed one more for our Powerball number. We first decided to go with the number 4, since it was the 4th month and there were 4 of us. Before we left Chang's, though, we changed the number to 21, because of the date.
We headed over to the nearby Shell station and started filling out a Powerball ticket. We were gonna buy two Powerball numbers; one with the numbers we had decided on at dinner, one with the quick pick.
As I was filling out the numbers, the subject came up regarding which number was our Powerball number. The women were sure it was 4, while Chad and I remember changing it to 21. Because the women are always right, we ended up going with 4. As the attendant ran our quick picks, we were all delighted to find that the machine gave us the number 21 as the Powerball number on our quick pick. We were certain that this was a sign that we were going to win the lottery.
By the time we got home, I decided to take this picture before the Powerball numbers were announced. You know…just in case we didn't win. Unfortunately, only two of our numbers hit, neither of them being our Powerball numbers.
Oh well, it was a fun night anyways. Here's to keeping a dream alive!