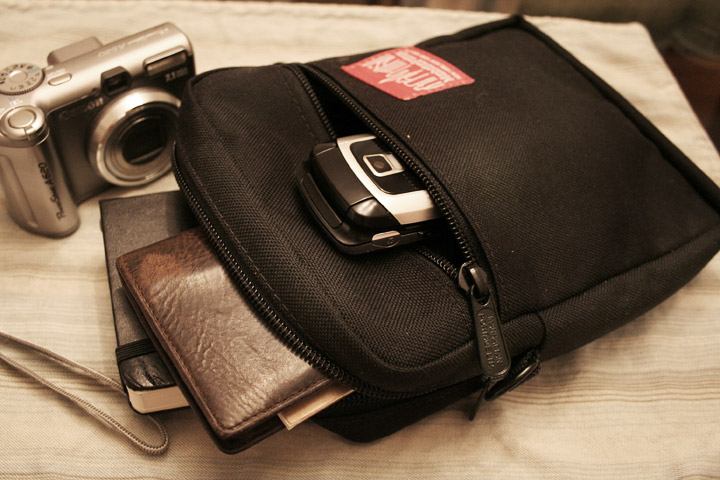 Traci loathes any type of manbag that I bring home. And trust me, I've brought home my fair share.
It's not that I want to carry a purse. It's not that I think it's cute and adds to my image. It's not that I want to impress people by my sense of metro-sexual styling.
When it comes down to it, I've just got lots of shit I like to carry.
Take, for example, the items listed here in the picture. There's my wallet, my moleskine, my cellphone, and my camera. I prefer to have each of these items on my person at all times. Granted, the moleskine isn't a necessity, but it's handy to take notes in and is a nice little task scheduler. Also, most folks would say that the camera isn't required. But, most people don't have a Piccal to run, either.
Most people would claim that all I really need are the wallet and cellphone. And while I could easily slip these into my back pockets, there are articles like this that claim that sitting on items in your back pocket can cause back pain. Because, let's face it, if God wanted you to have a wallet attached to your rear end, he'd have put it there himself.
Certainly I can't keep these items in my front pockets because of unsightly bulges. And I'm not one for false advertisement, if you know what I mean.
I've told Traci to find a better alternative to a manbag and I'd be happy to comply. However, to date she hasn't come up with anything.
So, here we have the City Lights bag by Manhattan Portage. No frills here, just two zippered pockets made out of durable nylon. It came with a shoulder strap, but Traci forbade me to wear it like that. Thus, I carry this badboy around in my hand.
This sort of thing is my bag, baby