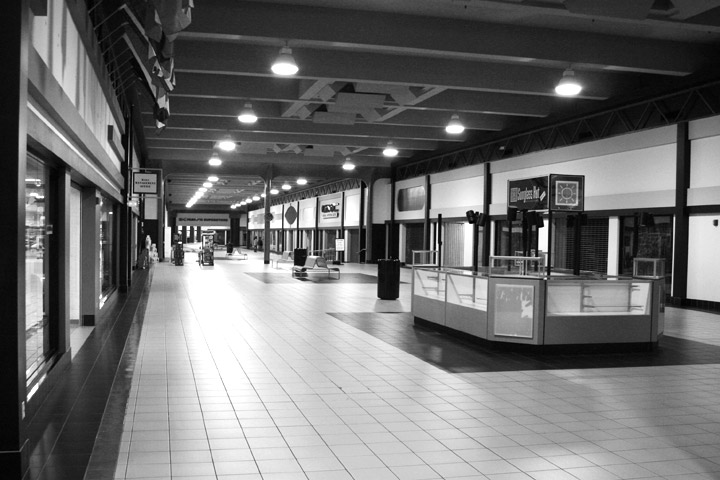 I stopped by the old 100 Oaks mall tonight and actually went inside the mall for the first time since we've lived 4 miles away from it. What a desolate place it's become.
There's only been one time I've ever seen this mall thriving. Back during the summer, Traci and I went to Guitar Center (to get her a bass guitar…which lately has seen as much action as the mall is seeing in today's picture) and we actually had a hard time finding a place to park. It turns out there was some fashion show going on in the mall. Maybe to spawn some activity? But, that was just one day. After that, it went right back to being a ghost mall.
Other than the lack of credible stores, I never understood why this mall never took off. It's in a fairly decent area; it's right next door to Baja Burrito, where me, Jared, and Bryan eat religiously each week. And that place is always packed. Also, the aforementioned Guitar Center scores a pretty good bit a business. The mall is also located right next to the biggest theater in Nashville.
It's really the second level of this mall that is down and out. The first (ground) level has a CompUSA, Michael's, TJ Max, and a pet store that each see their fair share of visitors. I think the downfall to this mall is that the first level can be accessed from outside, but not inside; you must actually enter the mall to get to the second level.
Now the second level is just a deserted corridor. Even the gumball machines (no pics, sorry) looked clouded over from lack of use. The only people I saw inside the mall was 2 workers at the Reebok store I went to, 1 customer there, a lady taking a picture of her son in one of those coin-operated cars, 2 ladies walking the distance of the mall, and 1 lowly security guard who kept giving me curious looks as I shot my pictures. Yeah, I could tell he was itching for some excitement as much as this mall was.
I managed to take one last picture of the flourishing food court on the way out.