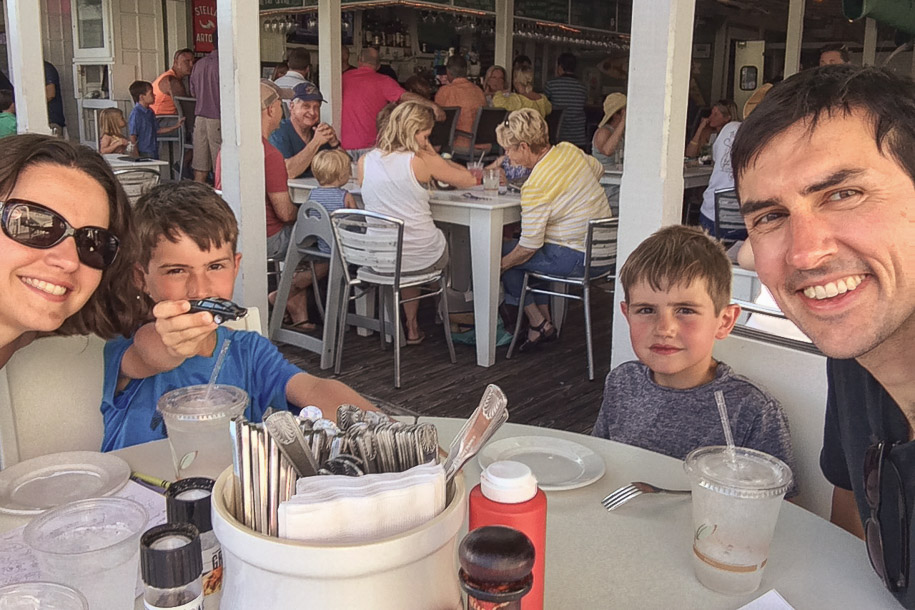 We got a fairly early start around 6:30am. Traci and Turner went to Publix while I got our bikes ready for a short ride. We all biked to Cowgirl Kitchen for my Father's Day breakfast. I got the Breakfast Burrito and Traci had the Chipotle Breakfast Sandwich. The boys split the Waffles, but neither of them ate much.

After breakfast, we headed to the beach and rented chairs. The boys played on the boogie boards that Traci had gotten at Publix. We spent the morning at the beach then had lunch at pool—blandwiches for boys and the leftover Lady K pasta meal for us.
In late afternoon, we called my family to say Happy Father's Day and Happy Boog's Birthday. We then departed by bike to our dinner at The Great Southern Cafe, which was one of our highlights from our previous trip. We arrived at 5:30pm, which was apparently 15-20 minutes too late. We had to wait nearly an hour. The kids were upset, but we managed to make it through. Weston's bad mood lasted for awhile—until we got our food—and I thought it matched his sour expression in our photo from this restaurant last year.

Traci had the Mahi Sandwich and I had the Pensacola Pulled Pork and split our meals. The kids had the Grilled Cheese and liked it OK, but ranked it second to Whataburger.
By the time we got home we were all tired. We got showered and then read about Aston Martins, which is Turner's current car craze. We learned the company got started in 1913 and the DB5 model was made in 1963-1965.
Compare notes from previous Florida Trips: 2015 Seaside Vacation, 2014 Destin Vacation.