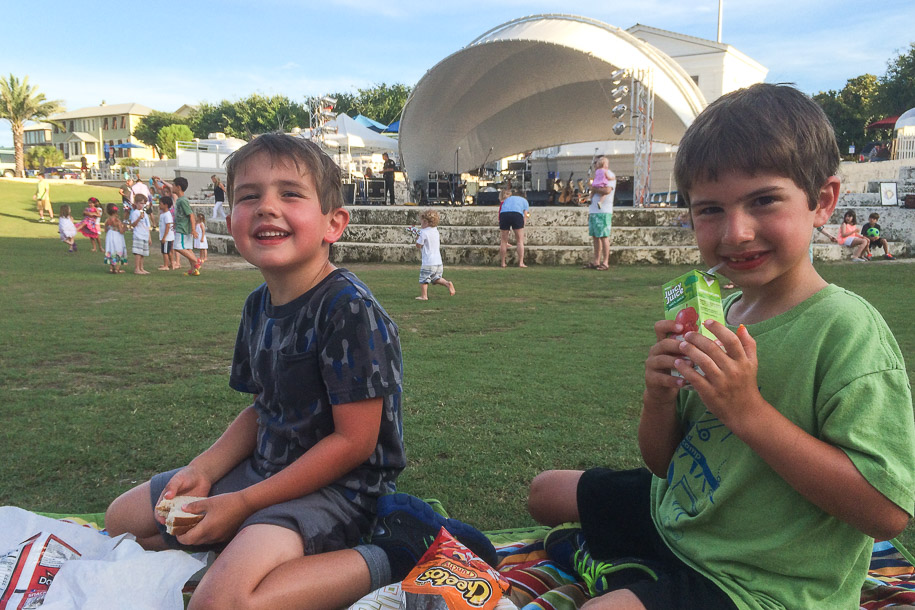 We went and had breakfast at the Perfect Pig. We split the Grilled Cheese Breakfast Sandwich and the Belgian Waffle. It was decent, but I realized my mistake was not ordering something that contained pork, which is what they're best at. I'd go back and try the pulled pork biscuit.
It was rainy sporadically throughout the day so we relaxed inside most of the morning. When we did go out to the pool we realized that everyone was getting bored of it, even the boys. Yet they still didn't want to go to the beach.
We concluded that, in a sense, this trip was a waste for them. They truly don't enjoy the beach. They only wanted to swim in a pool. What I can't seem to get across to them is that we can swim at a pool at home! We don't always have easy access to a beach. It was as if they wanted a cup of vanilla ice cream and we gave them an extra large banana split fully loaded with all the fixin's. They'd eat the small bit of vanilla ice cream in the banana split, carefully avoiding any of the upgraded ingredients that we felt they'd enjoy. This ends up being frustrating for all parties involved. The boys wouldn't get as much vanilla ice cream as they wanted and we are perplexed that they're not taking advantage of all the other great things that we've presented to them. This is a true parenting challenge.
A redeeming moment of the vacation came this evening at the Seaside Amphitheater. We biked down and took a picnic to enjoy music by Swear and Shake (from Nashville). The weather and food were great and the boys did good. Weston made his social rounds and ended up scoring a free sticker from the band's drummer and 4 free glow-bands from a young girl.
We biked home in the dark near the end of the concert. Weston still complained about his knees being sore as we rode. We tried to teach him to stop pedaling every once in awhile and just coast. He demonstrates this coasting by lifting his legs up completely off the pedals, as pictured below.