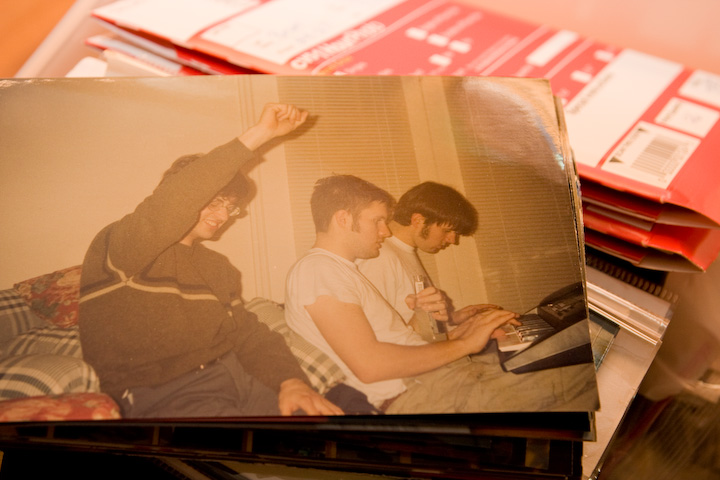 Back in my MTSU days, Jeremy and I used to go park at this old, rundown church off of Old Nashville Hwy, hop a few ditches and walk through some tall weeds to get to a beautiful rock quarry hidden away in the middle of Murfreesboro. I was always amazed that the quarry wasn't more popular, because it truly was beautiful.
When I was taking my photography class, I had gone out to the quarry a couple of times to take some photos. Well, today we had big plans. I had done a Google Maps search and found what appeared to be a few key locations to gain access to the quarry. We headed down with the intention of doing some more maternity shots of Traci at the quarry. Unfortunately, when we got there, all my newfound routes were rejected with the addition of fences and no trespassing signs.
Traci confirmed that she was not up for trouncing through weeds and ditches in her current condition, so we gave up on the quarry. That's a shame, though, because it is truly a beautiful and peaceful place; however, it is dangerous, which I'm sure is a big reason for the trespass warnings.
So, on to plan B. We were going to head down to the Manchester area and take some shots at Rutledge Falls. Of course, as soon as we got on I-24 heading out of Murfreesboro, we saw that the eastbound lanes were at a standstill with traffic. So, we said f*ck it and came back home.
Our intentions were good, but we had absolutely no success. At least we got to run by the bakery and pick up some thumbprint cookies, so it wasn't a total waste.
When we got back home, I started rummaging through some of my old photos to try and find the ones I'd taken at the quarry years ago. I looked for awhile but then started getting tired. I was about to hang it up for the night when I found the photo that is today's pic of the day.
This period of our lives comes up occasionally in our conversations. I was taking a music class that required me to purchase a keyboard. As I sat around ol' H-113 playing the thing, Derek and Jeremy would often come and do duets with me. Derek and I developed a truly awesome progression that we played for hours. I'm pretty sure either Brooke or Traci took this photo, but whoever did was surely treated to a special evening of music. Good times.