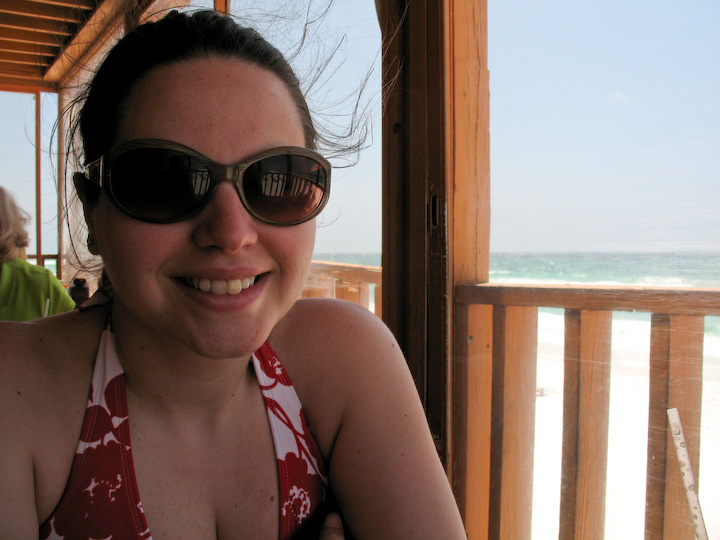 As part of Traci's exercise regime, we got up to walk a couple of miles in the morning. Fortunately, Donut Hole is almost exactly 1 mile from the condo, so we used that as our pivot point.
We stopped by Walgreens on the way back to pick up some milk to cater to Traci's cereal craving. After breakfast in the room, we headed down to the pool to bake our skin.
The weather was windy and a little chilly. While the water looked beautiful, we weren't able to swim in either the pool or the ocean the whole trip because things were just a smidge too cold. We did get to wade in the hot tub for a little bit, though.
As suspected, we marched down to Back Porch for lunch. Traci's seafood intake was cut drastically due to the baby, so she settled on a burger. I opted for the fried Amberjack sandwich, which rocked.
After lunch, we came back to the beach for awhile. We'd taken Traci's mom's beach umbrella down and that greatly heightened my comfort level on the beach. We hung out there for quite awhile…just long enough for the sunscreen-neglected areas on my feet and Traci's chest to get burned.
We got cleaned up and headed to Camille's for what would be our poorest eating experience of the trip. Poor service, crab cakes with pitiful side items, and a hair in my penne pasta all contributed to this disappointment. Probably won't be going back to Camille's again.