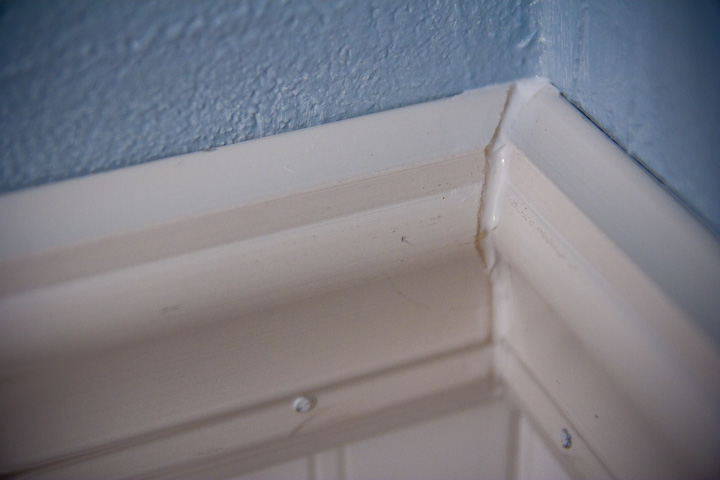 You've probably noticed that we've been remodeling our bathroom the past few weeks. Well, when I put up the chair rail over the wainscot, I cut the corners at a 45 degree angle, which is apparently a no-no. Once I realized this, I recalled a discussion that we had a few months back in the Pong chat where Bryan was saying something about a Coping Saw. My advice to him then was to cut the chair rail at 45 degree angles. Hopefully, Bryan, you didn't take my advice.
If may alarm you that the walls of our house, built in 1962, are not perfectly perpendicular to each other. So, what we ended up with were extremely gappy corners. These were like little zits on the face of our otherwise nice looking bathroom remodel.
So, tonight, I tried the whole coping saw technique where you basically cut one of the pieces square, fit it flush against the wall, and then cut the profile out of the other piece with a coping saw. Only, instead of doing the whole coping saw thing, I just used my Dremel tool.
Though my Dremeled piece wasn't that bad, the whole thing just looked pitiful. I even doused the cracks with some sealant to see if that would help the appearance; as you can see, I failed.
I spent a few hours on this tonight and got nowhere but frustrated. I even snapped at Traci and immediately felt bad for doing so. I just took a shower and tried to push the ordeal to the back of my mind.
Stupid Friggin' Corners of the Friggin' Chair Rail in the Friggin' Bathroom GRRRAHHH!!!