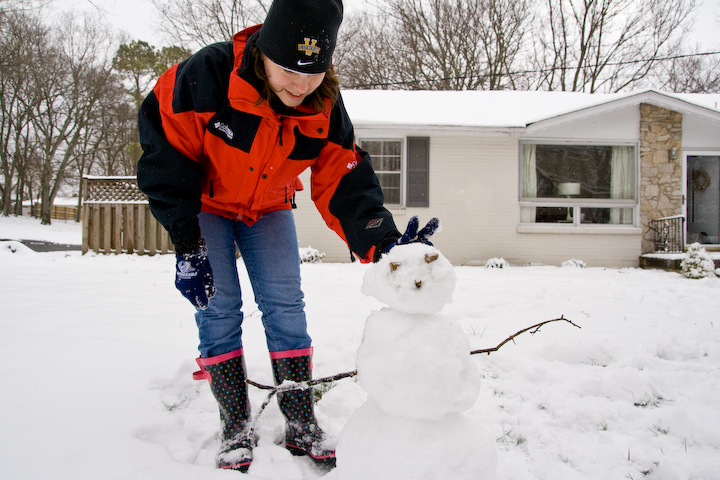 At the beginning of this week, Traci and I actually had quite a bit planned for today. However, as the week progressed–and as the snow fell–our plans quickly dissolved and we realized we had the whole Saturday free to do whatever the f*ck we wanted.
We set no alarm for this morning (even though we ended up waking around the same time as normal). We had nothing to rush to get ready for. And we had 3-4″ of fresh snow on the ground just waiting for us to play in.
This was such a flashback to childhood. We woke up, had a nice breakfast of homemade waffle sticks and sausage balls, then got bundled up in warm clothes and headed outside to pelt each other with snowballs.
Actually, I pelted Traci several times. She couldn't even hit me when I wasn't looking.
We soon realized we'd never built a snowman together, so we built what I believe is the best snowman the state of Tennessee has ever seen.
I had so much fun that I was able to overlook the fact that we get this snow on a Friday night instead of a Sunday night.
Even Zepp had a fun time hopping through the snow. But, he couldn't stay out long before little snow dingleberries started forming in his hair and making him shiver.