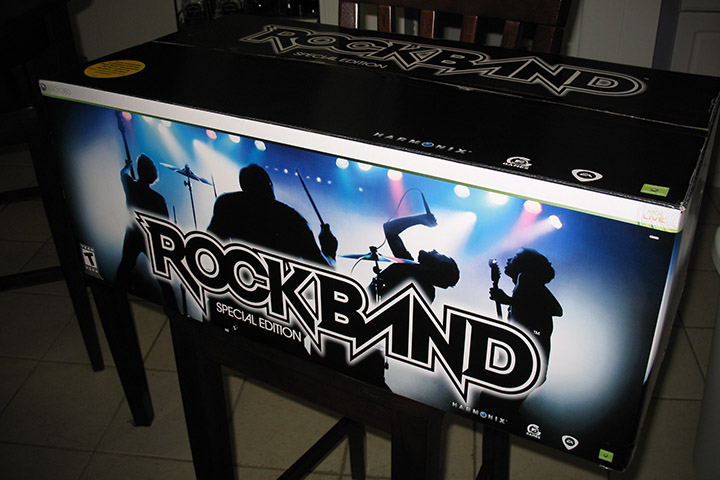 Two weeks ago, I sent Traci a Christmas List with the proper link to the Rock Band pre-order at Amazon. Yesterday, she emailed me and said that Amazon's saying that Rock Band is OOS (out of stock).
I'd read around online and talked to my buddies enough to know that this could be bad. Rock Band is expected to be very hard to find in stock as we get closer to Christmas, so I had basically resigned to not owning it until after the new year.
Today was the official release date of the game. All morning long, my Pong buddies had urged me to just go by Best Buy at lunchtime to see if they had the game. I just wrote these comments off as their usual mockery of me.
To shut them up, I actually called Best Buy to see if they had any in stock. No luck; the dude said that the game didn't come in. I delivered this information to my frens, who promptly informed me to call back and talk to someone else.
I just disregarded their advice this time, and in the meantime called both Circuit City and EB Games, both of which had already sold out of Rock Band.
At this point, my Pong buddies were getting so persistent in their efforts for me to call Best Buy again, that Derek offered to call them for me. I gave him the number and a few minutes later he said, "Bo, I called Best Buy and they said they just got it in."
You have to understand; this is typical behavior in the Pong chat. I, again, write this off as a joke and continue on with my work. My friends continue to inquire why I'm not bounding off to Best Buy and I tell them that I obviously don't believe Derek.
I really can't tell you if anyone actually believed Derek in the chat, but everyone went ballistic when I said I didn't believe him. Derek began describing his conversation with the Best Buy CSR in detail, from the number that he pressed in order to talk to someone in the game department (which was correct) to the name of the guy he actually talked to (John). He then confesses that he does f*ck with me on a lot of things, but that he'd never mess with me on something as serious as Rock Band.
I finally decide to call Best Buy again just to shut them up. I press the number for the game department and the guy answers and says, "This is John, can I help you?" I ask about Rock Band and he confirmed that yes, they indeed just got the game in.
And I was gone. I high-tailed it to Hickory Hollow and darted into the store. I didn't see the game with the other Xbox stuff, so I approached a group of CSRs surrounding the Guitar Hero 3 booth and asked if they had Rock Band. One of them went back to the stock room to retrieve my copy of the game.
I, of course, owed Derek an apology afterwards. And, in other good news, Traci was more excited than upset that Rock Band was my anniversary gift to her. She expressed her excitement by rocking the hell out of some "I Think I'm Paranoid."