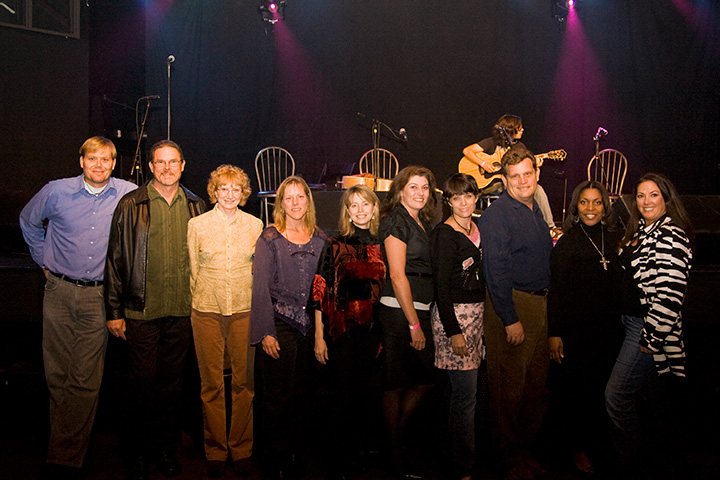 Tonight, Mark and I attended the Reese Faw Cancer Benefit at RocketTown in downtown Nashville. Reese was recently diagnosed with cancer, so a group of her friends got together to raise money to help out with the treatments. There was a silent auction going on as well as an exhibit setup for some of her photography.
It's a little unnerving being the photographer at a benefit for another photographer. I soon realized that my sole purpose for being there was to get a good picture of Reese surrounded by a group of her friends. As we moved from the dining hall into the concert hall, I started hearing people asking about where they need to line-up for the picture. I realized that this was the picture for the event, not a picture. A picture has much less weight leaning on it. But when you're taking the picture, you better get it right.
So, everyone lined up and I heard them asking, "Where's the photographer?" I raised my hand and approached them. It was too dark to go sans-flash, so I flipped on my flash–on-camera, which is not the way I wanted to go but after last night's strobe on a rope attempt this was all that I had.
As the people scrambled around to line up, I angled my flash 45 degrees toward the ceiling and popped a quick test frame to see how the light was going to look. At this point I noticed the little pilot light that indicates that my flash is ready was slow to turn on. This can only mean one thing; low batteries. I kicked myself for not having an extra set of batteries handy, but I knew that it was far too late for that.
I addressed the line of people waiting on their pictures and told them that we were going to do three shots, just to make sure no one's eyes were closed. I counted to three and fired the first shot (today's pic o' the day). I paused a few beats waiting for my pilot light to turn on. Nothing. I had to keep the ball rolling so I counted to three again, popped another frame. No flash.
The people knew it, too. They heard the faint click of the camera, but no visible flash. I acted like I had intended to do it that way. You know. To give myself some options.
I hesitated even longer this time, wanting to have at least two pictures (with flash) to choose from. The pilot light never came on, but I knew the people were getting antsy so I counted to three. Slowly. Thankfully, the flash did fire. Unfortunately, Reese's husband was posed behind Mark taking a picture of their son, which just threw off the picture. Hence, why I used the first one.
All in all, I was glad to be part of the evening. I ended up with some good pics of the music performances which I'll try to post when I have more time.