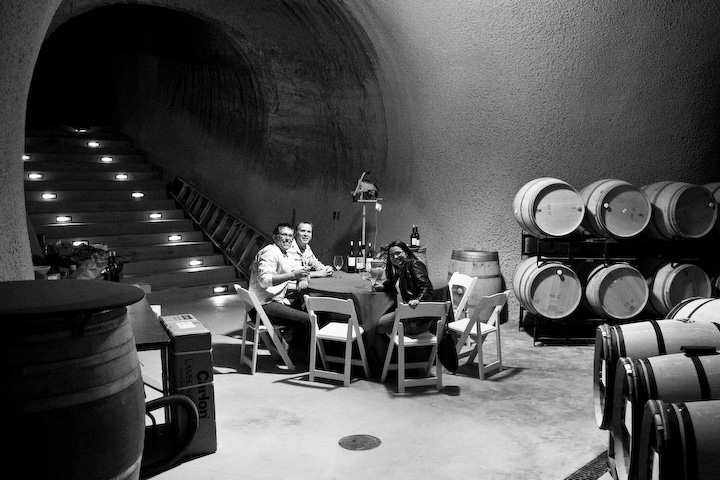 Today, while most of you were in church (/me stifles laughter), Traci and I were enjoying our first round of wine at Cakebread in Napa Valley. Heath called around to a few places and setup some reservations for tours and tastings. Cakebread was the one that Traci really wanted to go to, but on the phone they said they were completely booked up. We got to Napa a little early, so we decided to drop by there and buy a few bottles. They said that they had room for us in a tasting, so we accepted the invitation. For $10 we got to sample a selection of their wines and they let us keep the glass we drank from.
We then moved on to Mondavi, which was really the only place we had scheduled a full-on tour of. For $25/person, they took us through their vineyard, then showed us inside their factory, and then sat us down for a nice tasting.
We had to leave a little early from the tasting to make it to our wine tasting appointment at Chateau Boswell; Heath had never been to this one, but thought it might be cool given the name.
Upon arrival, we were led through a cave area to a small table at the bottom of the cave 68 feet below the ground. This is where we had our tasting, and it was the most unique experience of the day. Afterwards, we stopped by Taylors, a burger shack at the bottom of Napa Valley, for a late lunch/early dinner. When we got back home, we were too tired to do anything else, so we just hung inside for the remainder of the evening and got our plans together for the next day.