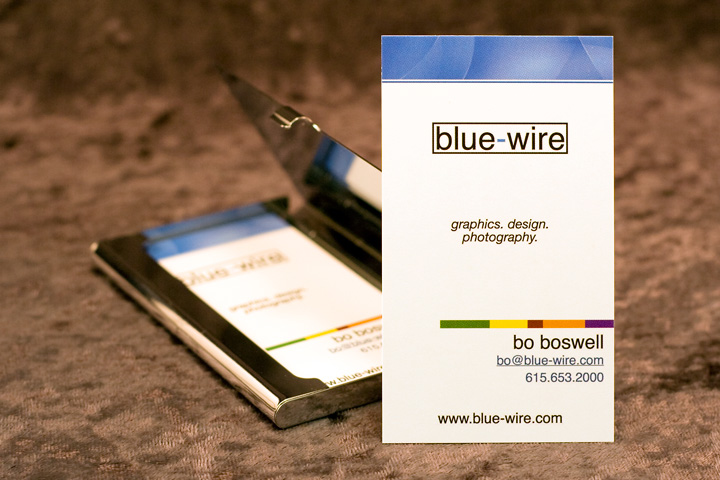 Since I have some upcoming photo sessions this month, I decided to get some business cards made up. Of course, before I did that, I had to decide what website I was going to use as a portfolio.
Since BoBoswell.com has turned into more of a personal playground instead of a portfolio site, I wanted to refer to a separate site for my "pro-ish" work. After great debate, I decided to go with blue-wire.com.
I've had blue-wire.com for awhile now, but have just never found a good use for it. There were several other domains on my mind (none of which I'm going to mention here because I may want to buy them in the future), but in the end I went with the obscure name that has a dash in it and will probably be impossible for anyone to remember otherwise. And you wonder why I'm not already rolling in the millions!?!
If you're in the market for some business cards, I'd highly recommend OvernightPrints.com. I got 100 custom cards and a sleek silver card case for $18 total (after I applied a $10 coupon I found online). I ordered the cards on a Thursday and received them today (Monday). Out of the 100 cards, 4 of them looked like they were printed when the ink was running low. I just threw those away, but the rest look great…to me, anyways. But what do I know; I like obscure and unmemorable domain names with dashes in them.
Blue-Wire.com Business Cards