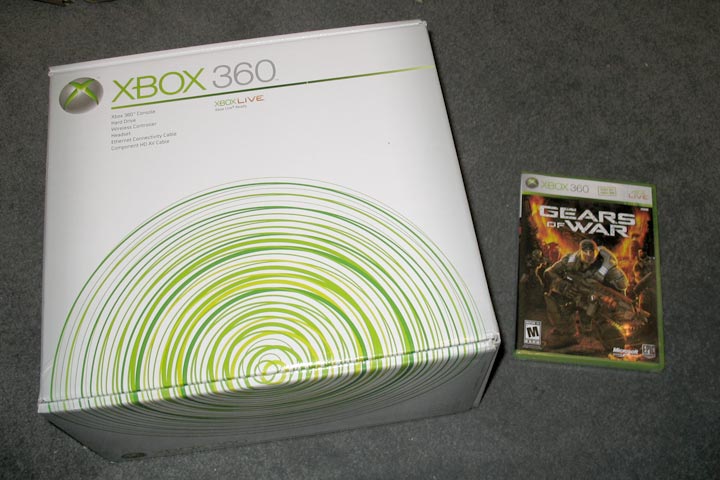 As I've been known to do in the past, I sold a few old music supplies and upgraded one of the components, then had enough money leftover to indulge in a brand new Xbox 360.
You may be asking yourself, as my wife asked me, but, what of the Wii? Is there something wrong with it? Is it not fun? Is it not worth it?
Let me assure you that there's absolutely nothing wrong with my Wii. It's a great console and I'm glad I got one. And, I can honestly say that if it got stolen or broken, I would be replacing it.
That's not to say that the Wii is perfect. Right now, the biggest crippling problem with the Wii is the game selection. This happens with any new console and I'm sure that over time, we'll see some awesome releases come out for it. But, as it is now, there are no good online multiplayer games, which is something I've been craving lately.
The specs of the 360 are a little more impressive than the Wii. The system has more potential for better looking and better sounding games. It also plays DVDs and has the ability to be an all-around good media center.
The biggest seller, though, is the game catalog. The 360 just has some good current releases, and the forthcoming releases look even more promising. You've got Grand Theft Auto 4 and Halo 3 coming later this year. Plus, you've got games like Gears of War (which was bundled free with the unit that I received today) that have great online multiplayer capabilities.
So, this morning I receive a good-looking package in the mail and became overcome with joy.



The included contents of the package were a bit more impressive than what was included with the Wii. First off, they gave me Energizer batteries for the wireless controller instead of brand-x. That's the first time I can remember ever receiving a strong-branded battery included with an item. They also included component cables instead of the regular RCA audio/video cables.
The complete contents of the package are as follows:
360 Console w/ 20gb hard drive
Power adapter (Size: Huge)
Wireless controller (with Energizers included)
Headset
Component A/V Cable
Ethernet Cable
Documentation
As you may notice, the power adapter, like the Wii's, is friggin' huge. One benefit of the Wii is that it comes with Wii Sports. So, when you buy the system and get it home, you can actually play a game on it. The 360 typically comes with no game included. I just happened to find a good deal that had Gears of War included.

Overall, I'm tickled shitless and I can't wait to play this sucker. I'd like to thank my wife for not getting too upset with me for spending money on yet another game console. I assured her that I would not let the 360 distract me from fulfilling her physical needs.
If you know my wife and I, you know that that last sentence was a complete joke.