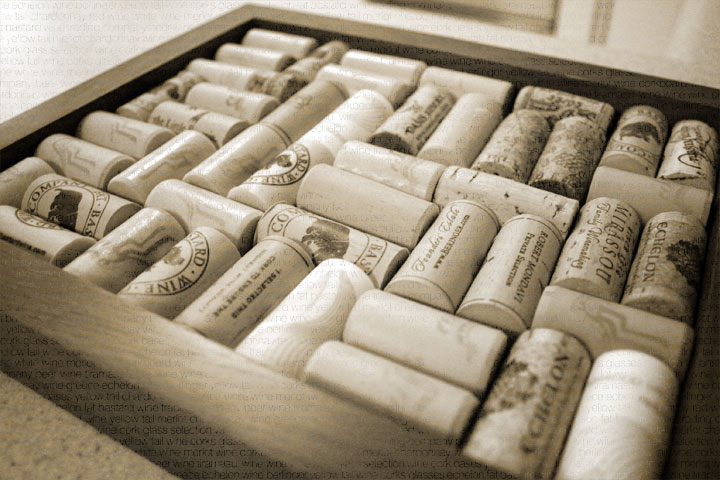 A few months ago, Traci and I assembled this corkboard out of, you guessed it; corks!
We got the little frame set at Bed, Bath, and Beyond and then set out one evening to arrange the corks in an orderly fashion. Unfortunately, the corks didn't fit as well as expected, and it turned out to be a daunting and tedious task. We finally got it close to perfect, then, and only then, did I decide to read the instructions included with the frame set.
The instructions recommended a totally different way to arrange the corks. So, instead of just keeping the corks the way I had them, or taking a picture so I'd be able to recall the way I had them, I emptied the frame and arranged the corks the way the instructions called for. I even used glue like the instructions said. This was a mistake.
We ended up with a mish-mash of corks that wouldn't fit. I finally aborted the instructions' recommended method and tried to arrange the glue-sticky corks the way I originally had them. We never got it exactly right, but close enough. We only had to cut one cork in half and shave down the side of another one.
I'd be interested in assembling one of these boards again, but I'd throw the instructions away at the very beginning.
You'll notice that there's a slight text overlay on this pic. I attempted to follow this tutorial, which turned out ok, but not for this pic. Below is the complete textualized pic if you care to check it out.