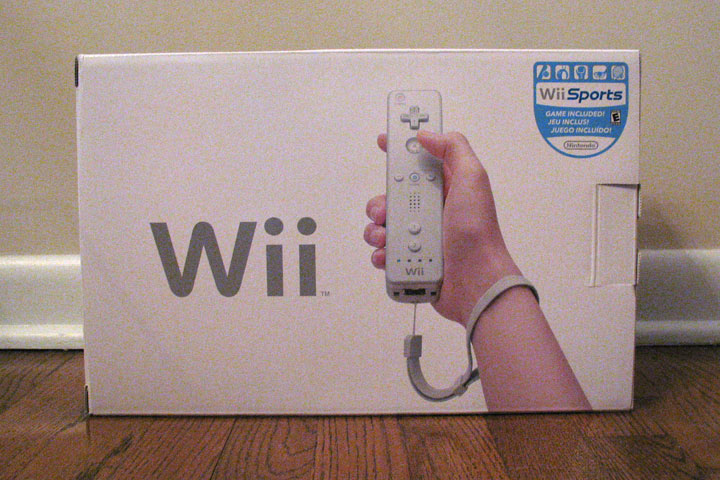 Today was the day that Target, Best Buy, and Circuit City were supposed to have their big Wii sale. At this point, finding a way to obtain a Wii has become quite a game in itself. Once I heard that several retailers were gonna be selling them today, I made up my mind to try and get one. This is my story.
5:30am – I woke up and started getting ready to head out and brave the cold and crowds. Zepp was not too happy with my decision and tried his best to convince me otherwise.
6:20am – I arrived in Antioch and drove by Target, Best Buy, and Circuit City. All parking lots were empty save for one lone truck sitting in the Best Buy parking lot with its lights on. I parked at Circuit City (right next to Best Buy) for a few minutes, but then felt stupid. There was no one else there, the parking lot was dark and deserted, it was cold and rainy, and it just didn't feel right. I decided to head to Cool Springs to scope out the situation there. On my way out, I decided to snap this pic of a ferris wheel in the parking lot next to Target.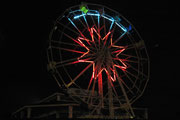 6:45am – I arrive at Circuit City in Cool Springs and there are 4 other cars in the parking lot. Everyone hangs out in their car for awhile, but at 7:10am, more cars started arriving, so everyone got out and started lining up. There was a sign on Circuit City's door that stated they had 13 Wiis in stock. I ended up being #4 in line, and stood there for almost 2 hours. About 20 people showed up overall, most of them left after hearing that there were only 13 units. A few folks showed up and said they had been waiting at Target for 2 hours until a manager came out and said they didn't get any units in.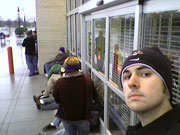 9:05am – The manager came out of CC and started passing out vouchers, saying there could only be one voucher per household. I got my voucher, went and got some coffee from Starbucks, swung by Walmart to get some cokes, and then hung out in the comfort of my warm truck until the store opened at 10.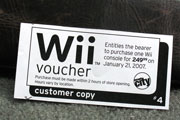 10:10am – I purchase my Wii console, Zelda, and extra controller (with Nunchuk) and head home for the unboxing.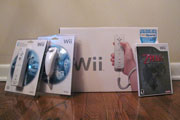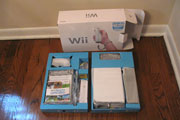 Upon unboxing, I found that the power supply was almost as big as the Wii itself! The other bad thing about the power supply is that the length of cable that runs from the ps to the Wii is pretty short, so when the Wii is on top of my TV set, the power supply is left dangling halfway in between, which makes me uneasy about leaving it there since it could yank the power cable from the Wii.
The next thing I was unaware of was the size of the sensor. I assumed that the sensor was built-in to the Wii, but it's actually an external unit that you have to find more room for on the TV set. The sensor (and accompanying stand) have double-sided tape included on them in case you wanted to mount them to your TV, but I'm honestly not sure why anyone would want to do that.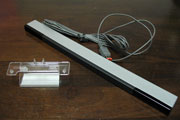 I have nothing against the sensor, it actually helps to have it as a reference point during gameplay. But it's just an added accessory needed in order to play the system. It all adds up, and soon you have quite a bit to pack up in case you ever wanted to take it over to a friends house…or to work to show it off to your co-workers.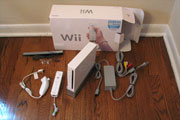 The Wii, though the system itself is the smallest system I believe I've ever seen, claims quite a bit of TV-top real estate in my case.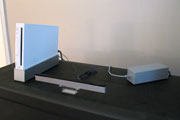 After spending some time with the system, I discovered a few features that I either didn't know about or had forgotten about.
You can power on the system via the remote control – I see this simple feature coming quite in handy.
Built-in wireless connection – When I first unboxed the Wii, I noticed there were two USB ports on the back of the unit and automatically assumed that's how you connected it to your PC for Internet connection. I was pleasantly surprised to find that the system is able to connect to a wireless router without the need for any external accessories.
Mii Character Creation is fun – I had more fun creating a Mii for myself and Traci than I initially expected. They've done a good job making it a fun and easy process. Plus, I like the fact that you can store your Mii in your remote. That makes it handy to take your remote with you to someone else's house and be able to play with your Mii character.
The Wiimote has a speaker in at, as well as a rumble motor – This is an added benefit for gameplay.
Overall, the Wii is a lot of fun and it offers a pretty unique playing experience.
Regarding the fiasco I went through this morning trying to obtain the Wii…if I were given the choice to do it all again, I'd definitely do it. Of course, the next time I'd remember to take a camp chair and some warmer clothes. And some coffee.